See what's next after the honey wars
AUSTRALIA'S biggest honey company and some of the country's largest supermarkets are facing accusations of selling 'fake honey'. Five experts look at the impact of the allegations
Australia's biggest honey producer, Capilano, has denied it is selling 'fake honey' after an international scientific lab that specialises in honey fraud detection found that almost half the 28 honey samples it tested from various retail brands, including Capilano's Allowrie brand, were "adulterated" – meaning it has been mixed with something else.
The adulterated samples were all products that blend local and imported honey – Capilano has disputed the validity of the tests.
So what exactly is in your honey? And what does this allegation mean for Australia's honey industry?
We asked a number of University of Melbourne experts about the impact of the accusations and what might come next.
1. How is the Australian honey industry regulated and what's the screening process?
Professor Jean-Pierre Scheerlinck, Director of the Centre for Animal Biotechnology, Faculty of Veterinary and Agricultural Sciences
There are several concerns when it comes to the regime testing done on imported honey for adulteration.
First, it's worth noting that only a small amount of honey is tested. Secondly, the testing method is typically based on detecting the presence of C4 sugars; these are found in tropical plants like sugar cane and maize or corn, but usually only appear in small amounts in nectar collected by bees.
Some genuine unadulterated honey may sometimes fail the test depending on which flowers the bees have visited. But importantly, other C3 plants – like rice – can also be used for sugar production. So, honey adulterated with rice syrup won't be detected by the C4 test as "adulterated".
This means honey exporters supplying Australia have quickly learned how to adulterate the honey and still pass the test; making it not all that surprising that a more sophisticated and less frequently used test, like the Nuclear Magnetic Resonance (NMR) test, detects adulteration that previously slipped under the radar.
Relying on testing in an environment where large profits can be made by circumventing testing regimes means it's sadly likely to entice creative fraudsters into evading common testing methods.
The other key issue is whether honey contains antibiotics. Many countries use antibiotics to control foulbrood – a fatal bacterial disease of honey bee larvae and pupae.
Here in Australia, it's legal to use some antibiotics to control European Foulbrood but not American Foulbrood (which is controlled here by destroying infected hives). However, in some countries like the USA, antibiotics are added to the hives on a regular basis to prevent disease. But Australia stopped testing for antibiotics in 2015.
Interestingly, Western Australia is the exception and doesn't, to my knowledge, have European Foulbrood. As a result, no untreated honey can be imported into WA from other parts of Australia or overseas.
What that means is it's likely that Western Australians enjoy only locally produced honey.
MORE: Are vegans villains in the fake honey furore?
MORE: Code of conduct calls to protect vital industry
2. The health impact of when honey ceases to be honey
Associate Professor Sof Andrikopoulos, Head of Islet Biology and Metabolism Research Group, Faculty of Medicine, Dentistry and Health Sciences
One of my fondest memories as a child, is when I was sick and coughing, my mother making tea and putting a table-spoon of honey in it to sooth my aching throat.
Which begs the question: other than a cough suppressant, what other health properties does honey have and when does honey cease to carry these benefits?
In addition to sugar, it has been purported that pure honey has anti-oxidant and anti-bacterial and anti-fungal properties and may have benefits ranging from wound healing, improving blood pressure, triglycerides, cholesterol and cardiovascular disease to perhaps even cancer.
Regardless of these claims, because it wasn't readily found, pure honey was treasured by ancient civilisations and hunter-gatherers, including Australian Aboriginal communities. as a natural source of energy and contributed to their survival.
In saying this, pure honey has a very high quantity of sugar and wouldn't be something that people with diabetes should indulge in or be good for your dental health.
If honey has been adulterated by other substances to look and taste like honey, then it is reasonable to assume that it wouldn't have the same claims to health benefits as pure honey.
It's important to know what other substances are in honey if indeed it has been mixed with other substances so the consumer can make an informed decision when buying this product.
3. Honey is sold to us as wholesome and natural – what impact will these allegations have on customer trust?
Professor Simon Bell, The Centre for Workplace Leadership, Faculty of Business and Economics
The provenance of a product is becoming increasingly important for almost every product we buy; especially when it comes to food. And this trend is only increasing.
For example, where it once it might have been more than sufficient for cafes to tell customers the brand and perhaps, at a stretch, species of their coffee – like Arabica versus Robusta; many customers now want to know about the specific coffee variety – Geisha versus Yirgacheffe – and the farm from which it came.
Countering this trend is the inertial pressure on businesses – especially those traded on the stock market – to reduce costs and increase profits. It's a common industry practice to change the formulation of products incrementally over a number of years, keeping changes just below customers' perceptual threshold.
For example, nearly 30 years ago, Coca Cola gradually changed the sweetener it used in its flagship beverage to include more high fructose corn syrup, which is less expensive than cane sugar. And customers didn't really notice.
Although Capilano has denied any wrongdoing, the same process may have been going on in the background here – the gradual substitution of small amounts of ingredients.
The key difference here is that Coca Cola's recipe is their own and it's their choice to reformulate. Honey, on the other hand, is nature's own recipe and any attempt to change this will only be met by a customer backlash.
If these tests results are indeed accurate and reliable, Capilano would do well to return to selling pure honey or they will very quickly find themselves marginalised by customers.
Also in Australian Food News
4. Can 'honey' still be called 'honey' on the label if it has other things in it?
Professor Christine Parker, Melbourne Law School
Australian law is absolutely clear that food sold as "honey" must in fact be honey, as defined under the Australia New Zealand Food Standards Code. Selling a product labelled as honey that isn't in fact honey is an offence in the various states and territories. Producers and retailers can be held responsible and fined.
Labels must also say what is in the food – so failing to declare other ingredients have been that have been blended with the honey can also be an offence. If allergens or toxic substances have been added and not declared, this is an even more serious offence.
Nevertheless, food fraud experts point out that honey is one of the most commonly mislabelled foods around the world. Food regulators in Australia don't regularly test foods produced and consumed within Australia to make sure that they comply with prescribed definitions.
The Australian government reportedly does test samples of honey coming into Australia for safety and for correct description. But food fraudsters constantly come up with new ways to cheat tests designed to root out food fraud, and regulators must keep ahead of them.
So even though we have a strict law about what honey should mean, it isn't always well monitored and enforced, and some falsely labelled honey may well end up on our supermarket shelves.
This is where the Australian Competition and Consumer Commission has stepped in. Consumer Law prohibits businesses from engaging in conduct that misleads or deceives consumers, or is likely to mislead or deceive. So selling honey that isn't honey is also a breach of consumer protection law.
In 2014 the ACCC took action against a number of businesses that imported and sold fake honey falsely labelled as honey. In one example, a business was fined $30,000 for falsely labelling a product as "Victoria honey" when it was mainly made up of sugars from plants like corn and sugar cane and imported from Turkey.
5. This problem of adulteration is something we've heard about before – but the focus was Manuka honey?
Professor Peter Lloyd, Emeritus Professor, Faculty of Business and Economics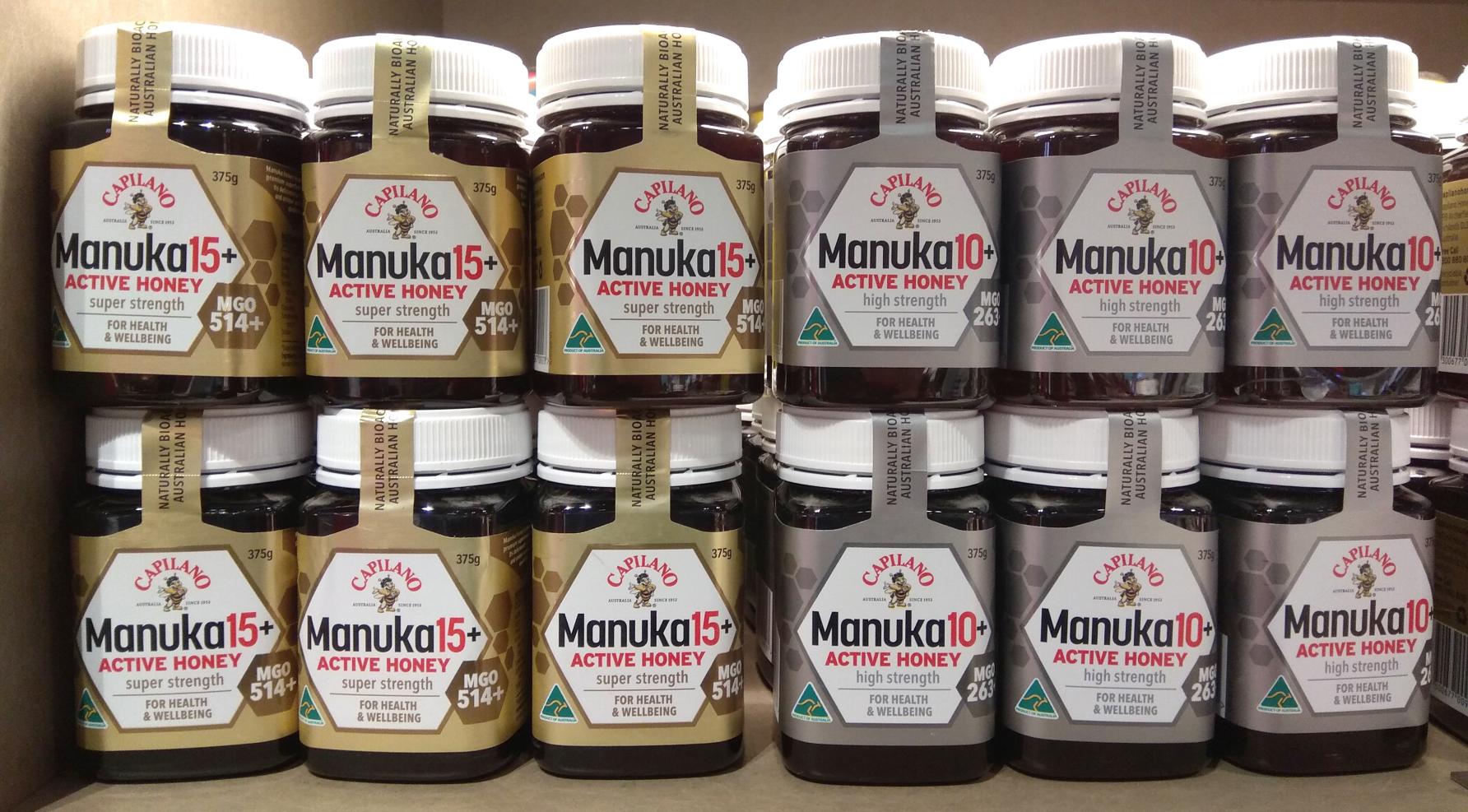 Allegations of adulteration of honeys sold in retail outlets in Australia by the addition of sugar syrups and other honey-like substances are only the latest in a series of problems concerning the identity of honey, particularly floral types of honey.
Some of the most severe problems in the recent past concern manuka honey – which is honey produced from a species of tea tree (leptospermum scoparium) found only in Australia and New Zealand.
This honey sells at a very high premium because of its supposed probiotic health benefits. But there's been a long and great debate concerning the definition of manuka honey.
It's known that the total quantity of 'manuka honey' sold in the UK alone exceeds the annual production of Australia and New Zealand: implying that genuine manuka honey from New Zealand or Australia has been adulterated by the addition of other (much cheaper) floral types.
But serious doubts have been raised by some scientists concerning the advertised health benefits – some claiming that there is no scientific evidence of any health benefits from the ingestion of manuka honey. That said, the anti-bacterial properties of manuka honey applied in hospitals is widely accepted.
Meanwhile, the New Zealand Ministry for Primary Industries is currently developing product standards for manuka honey, and it also disputes that honey produced in Australia from the leptospermum scoparium tree species should even be called manuka honey.
Even though the Australian honey is of the same floral type, the New Zealand Government wishes to reserve the term for honey produced only in New Zealand.
So, the honey wars have been going for quite some time, and look set to continue for a while more.
This article was first published on Pursuit on 4 September, 2018. Read the original article by Associate Professor Sof Andrikopoulos , Professor Christine Parker, Professor Jean-Pierre Scheerlinck, Professor Peter Lloyd and Professor Simon Bell